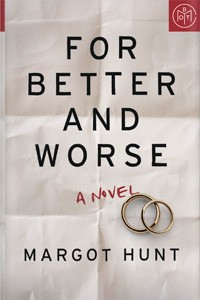 It's been a while since I've finished a book in a day, but crummy Chicago weather really helped me sit down with this page-turner.
I was a Psychology of Criminal Justice minor in my undergrad years, and a Law Minor in Grad School. I love alllll things legal, and my friend Sara and I can wax poetic on the Jerry Orbach/Lennie Briscoe episodes of Law and Order. I also highly recommend the movie Primal Fear for any other legal buffs, not just because it's a great film, but it's amazing for showcasing 1990's Chicago 🙂
So when I saw that Book of the Month had categorized For Better and Worse as a "Legal Thriller," I knew I had to request it.
The story centers around a family, living in a Floridian suburb in the wake of a local crisis. Natalie and Will Clarke are both lawyers, having met during law school. They graduated, got married, and now it's several years later and they have one child, Charlie. It is uncovered that Charlie is the victim of a crime, and being a criminal defense attorney, Natalie wants to take justice into her own hands.
Some of the plots points are a little predictable, but the twists I didn't expect were really interesting. When people try too plan the "perfect" crime, is it the evidence that does them in, or the people they thought were on their side? As they say, the devil is in the details.
I have to hand it to Hunt for writing a really cool protagonist in Natalie. She is confident, and seems to be the cool and collected one of the couple- which goes in contrast to soooooo many other thrillers I've read where the women have been portrayed as droopy and fearful.
I needed a fast-paced thriller, and this one delivered. I recommend it for legal thriller buffs like me!
Make sure to tell me what you think either by email (sandra[at]readingwithchampagne.com) or Instagram.
Source:
I purchased the book via my Book of the Month Subscription. If you want to sign up and get a free book, use my referral link here: https://www.mybotm.com/c39ddbca10287