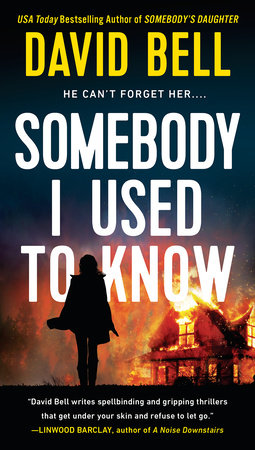 A few weeks ago, I was sent David Bell's 2015 book Somebody I Used to Know, specifically re-released in mass market paperback format. I had heard many good things about Bell's thrillers, so I was excited to dive in for my first read of 2019 (okay…I started reading at 10:00pm on Monday the 31st- that's close enough, right?).
The book centers around the story of Nick Hansen, a man whose college sweetheart, Marissa, tragically died in a fire 20 years ago. Nick is grocery shopping one day and sees a young woman who is the splitting image of Marissa- from her face, her hair, down to her gestures and mannerisms. When he asks if they are related, the young woman bolts from the grocery store, never to be seen again.
Nick receives a visit from the police the next morning. The young woman from the grocery store is dead, and his name and address were found in her pocket. Who is she? Is she really connected to Marissa, or is Nick just obsessed with the deceased love of his life?
There were many times when I was reading this book where I, haughtily, thought I knew exactly where the book was going. WRONG! I hate predictable thrillers, and I really didn't see the ending coming.
What's more, is that when the "twist" came, it wasn't too rushed! I feel a thriller has a longer-lasting "chill factor" when there is time to adjust to new information that changes the direction of the plot (you don't feel as "derailed").
I found this book to be very satisfying, and I especially loved the supporting characters Heather and Laurel, who left distinct impressions on me in their own right (separate from the thriller/mystery plot line). Excellent pacing, characterization, and setting. Highly recommending this one, and can't wait to read more from Bell!
Rating: 4/5 stars
Source: Thank you so much to Get Red PR for sending me a mass market copy of David's book! All opinions are my own.
Save the Date! David Bell's new book, Layover, publishes this summer on July 2nd (in both hardcover and paperback-don't you love when that happens?).
—————————————————————————————————————————————–
I also wanted to give a shout out to the publisher for re-releasing this book in the mass market paperback format. There are many reasons for which I love mass market paperback books, and thought I would share why!
Mass market paperbacks make it easier for readers to get their hands on books to purchase, given their ready availability in airports, train stations, drugstores, grocery stores (Target especially), even coffee shops! After all, not every town doesn't have a bookstore (my hometown doesn't have one!)
Readers are allowed to explore "backlist" books, meaning books published (typically) at least a year ago or longer. For those who struggle to get a copy of a popular book at their local library, or would rather own the book outright, readers can buy a brand new copy that is cheaper than the hardcover equivalent.
Mass market books are often a great reading classic books, helping us make up for those summer reading recommendations that we never got to in high school!
This format provides an inexpensive way to support independent bookstores (The Amazon.com/Barnes and Noble vs. indie cost differential often being the reason people don't shop local). It's so easy to order copies of these directly from the stores, and in my experience, often arrive at the same speed of their mainstream competitors (I once ordered a book from my local bookstore and received it the next day!).
This format makes it SO easy to gift books! The price point, and the smaller size, make it optimal for either smaller gifts (I was that kid who got Stephen King mass market books in her Christmas stocking), or for pairing with other gifts for a set. A mass market fiction book and a bottle of vinho verde wine can run less expensive than a brand new hardcover book.
PLUS, mass market books are good for buying multiple gifts of the same kind. Have you ever hosted a Favorite Things Party? I've always wanted to, and a book would be such a good item to bring! I also bought mass market copies of Emily Giffin's book Something Borrowed for my bridesmaids at my wedding (thankfully, there was no chance of life imitating art with that selection!).
Here are some of my favorite books, available via mass market paperback, to pick up for your next commute read: