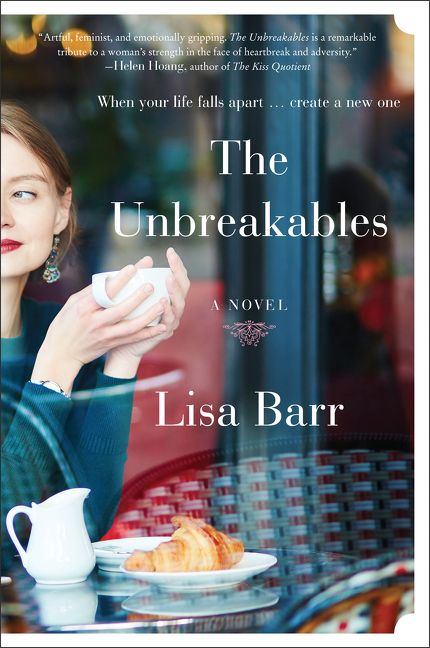 The Unbreakables by Lisa Barr
In the midst of baby planning, I was delighted to pick up a copy of The Unbreakables by Lisa Barr (gifted to me from the ever amazing, Lori at Get Red PR).
Sophie Bloom has just received the worst birthday present she's ever gotten. On a night out with friends, it's revealed that her husband, her high school sweetheart, has cheated on her. And not only cheated, but cheated multiple times through the real-life cheating website, Ashley Madison.
Devastated, Sophie joins her daughter, Ava, who is studying abroad in Paris. She tries to use the time to recover from this betrayal, and determine if her marriage is recoverable. Through this trip she takes a break to discover more about herself, sexually and artistically. She doesn't realize how much of herself she's silenced over the years.
Probably my favorite part of the story is the relationship between Sophie and her daughter, Ava. Ava is about to start her senior year in college, and she is so naive about her parent's relationship, and relies so much on her mother to snap her fingers and just "fix" the issues.
As I reflect on motherhood, isn't this what society tends to expect of women? We are the fixers, the doers, the schedulers. Sophie gently resists this expectation, and I find the dialogue and the fallout to be so natural.
"Choosing me first over their needs, disappointing my daughter and yes, even Gabe, takes us all by surprise." (pg 277)
The book has a few twists, which kept the narrative moving along at a quick pace, and made it a more memorable read. I also loved that the fictional town of North Grove is SO SO SO much like the North Shore of Chicago, from the prevalent yoga studios and beyond. 🙂
Overall this was a light, uplifting read, and I was grateful that it wasn't predictable in any way. Highly recommend if you're needing a good beach read (or if, like me, you're tired of books and Instagram posts about the scary side of being a new mom!).
Source: This book was gifted to me from the amazing PR team at  Get Red PR. 
Further Reading: